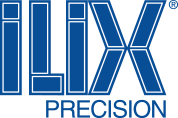 ILIX Precision
German quality and reliability since 1895.
The origins of the ILIX Präzisionswerkzeuge tool manufacturing plant date back to 1 July 1895, when the first headquarters were founded in Frankfurt am Main.
From the very beginning, although the company was involved in multiple industrial sectors, one of the primary objectives was to focus on the production of cutting tools.
The historical turning point, on a technical and production level, came in 1926, when, characterized by the advantages brought by the use of high-speed alloy steel (HSS), an innovative line of drilling tools was produced, presented on the market through the brand ILIX Precision.
From that moment on, solid foundations were created to develop a complete range of products for chip removal, thanks to a path of continuous growth, technical innovation and constant search for quality, up to the present day.
ILIX Precision currently offers a wide range of drilling, threading, reaming and countersinking cutting tools.
Inside the ILIX catalog you will find cutting tools in Hss, Hss-Co, Hss-Co PM, solid carbide and indexable inserts for different types of applications and materials.
EXCELLENCE & PRESTIGE ILIX GALLERY